"Captivate your audience with an MC, host or presenter that expertly combines an engaging and warm personality with subtle charm and wit. Any event, brand or ceremony would be lucky to have Bennum running the show."
– Khanyi Buthelezi (CEO, Embassy Agency)
Bennum van Jaarsveld Facilitating the Final Draw of the Pick 'n Pay Shop Big Win Big Promotion
Posted August 20, 2015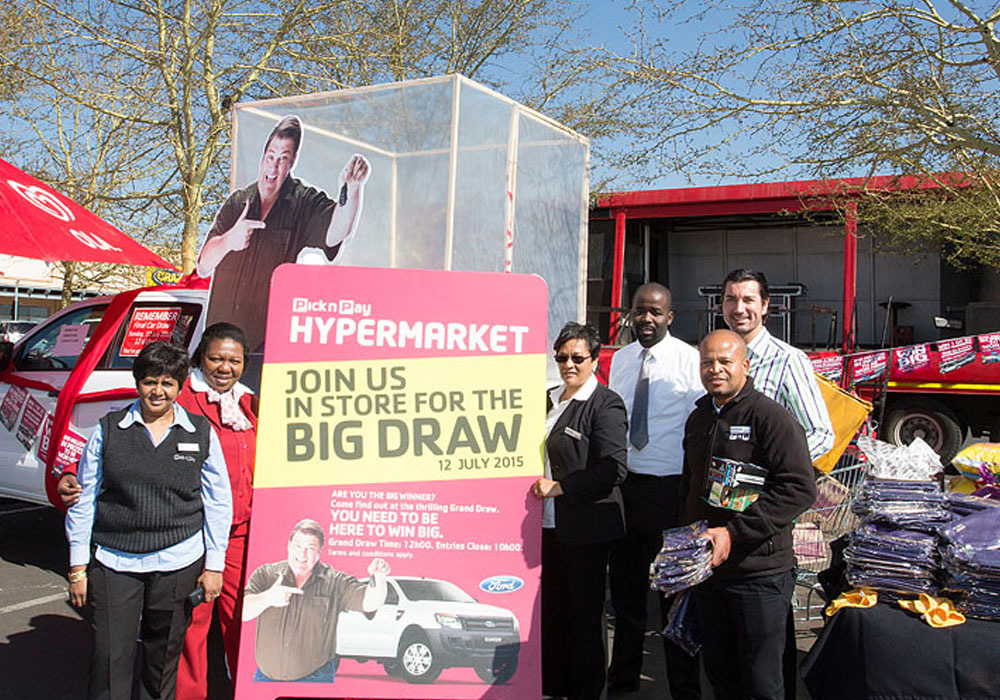 It has certainly been a busy month in my role as Master of Ceremonies with some exciting events! One of the highlights was facilitating the final draw of the Pick 'n Pay Shop Big Win Big promotion. The competition ran over 13 weeks and the final draw for the big bakkie give-away took place on 12 July. I was MC in Gauteng for the day at Pick 'n Pay Hyper in Centurion.
The day turned out so well and the weather played along perfectly – it was a hot sunny day which certainly added to the festive mood. The final crowd who gathered in front of the store was well over 1000 people – everyone hoping they would be the lucky winner of the grand prize. There was lots of entertainment with face painters, tattoo artists, and Omo the Clown. We also had special appearances by the mascots of various brands who entertained the kids and adults and handed out some great prizes and give-aways.
I found the crowd very entertaining and enjoyed my interaction with them. We shared some funny moments throughout the day. I handled all the formalities for the competition and finally it was time to do the draw for the grand prize. We had to draw 3 times which certainly added to the suspense and excitement in the crowd. Announcing the winner's name and seeing the expression of shock and joy on his face was a special moment.
The photos for the event were taken by Elske Kritzinger. We have worked together on many events, launches and projects in the past and it was such a pleasure to team up with her again. See more photos of the day in my gallery. It was such an honour to be part of this competition over the 13 week period, facilitating the build-up and final draw as Master of Ceremonies.
"Bennum has a very engaging delivery style and eloquent speaking ability. He adds class and elegance to any function or event." – Nina Pieters (Owner – Events Extra-Ordinary)
"He is a great brand ambassador, always making sure that he is fully clued up with all the relevant and recent information, carrying the brand forward in a positive and knowledgeable manner. I will work with Bennum any day of the week. Great guy and loyal friend." – Ewan Strydom (Owner -Morning Breakfast Show Presenter, SABC3)
"It was great to have Bennum as MC at our wedding. We could relax and enjoy our special day knowing that all the formalities were taken care of and running smoothly. Bennum made sure our guests were taken care of and everything ran on time. He even helped us plan the sequence of events and was a great help in pulling the programme together." – Corlia Kemp
"Bennum has a very engaging delivery style and eloquent speaking ability. He adds class and elegance to any function or event." – Nina Pieters (Owner – Events Extra-Ordinary)
"He is a great brand ambassador, always making sure that he is fully clued up with all the relevant and recent information, carrying the brand forward in a positive and knowledgeable manner. I will work with Bennum any day of the week. Great guy and loyal friend." – Ewan Strydom (Owner -Morning Breakfast Show Presenter, SABC3)
"It was great to have Bennum as MC at our wedding. We could relax and enjoy our special day knowing that all the formalities were taken care of and running smoothly. Bennum made sure our guests were taken care of and everything ran on time. He even helped us plan the sequence of events and was a great help in pulling the programme together." – Corlia Kemp