"Captivate your audience with an MC, host or presenter that expertly combines an engaging and warm personality with subtle charm and wit. Any event, brand or ceremony would be lucky to have Bennum running the show."
– Khanyi Buthelezi (CEO, Embassy Agency)
MC for Pick 'n Pay Hypermarket
Posted July 3, 2015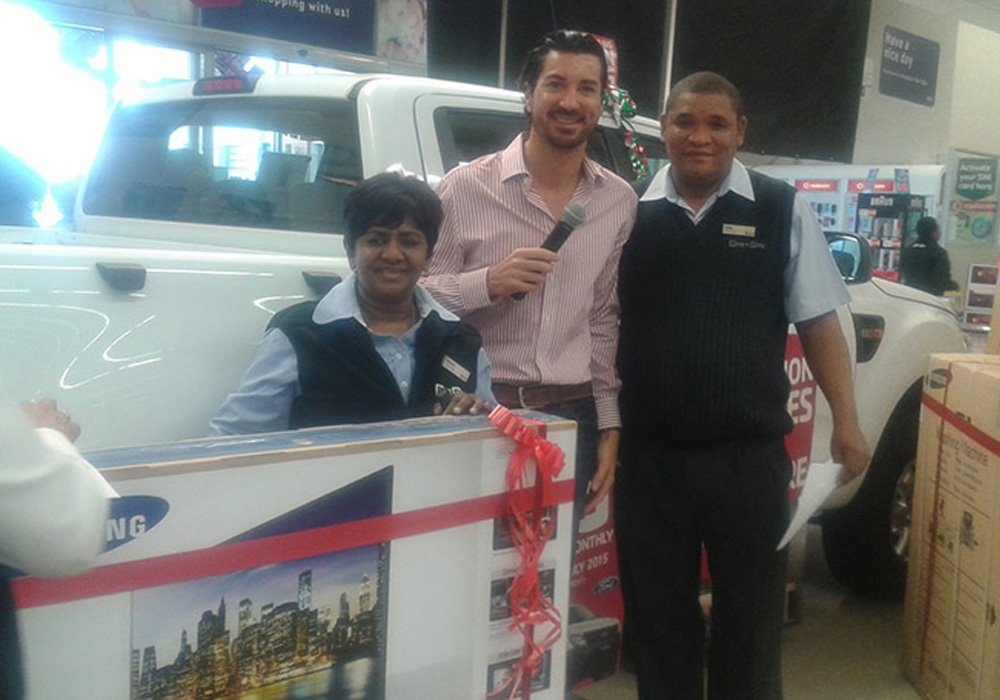 For a couple of weeks now I have been the MC (Master of Ceremonies) for Pick 'n Pay Hypermarket. This is to facilitate and promote their national 'Shop Big. Win Big" promotion which is currently running. You might have seen the ads on TV or if you were in store in one of the hypermarkets. Can't miss that big rugged bakkie parked inside – this will be the main prize give-away. It has been very exciting being part of the build-up over the last few weeks and I cannot wait to facilitate the final draw and announce the winner!
The promotion also includes weekly prize draws with some amazing appliances being given away every Saturday and I just love doing the hourly, half-hourly and eventually 10 minute interval announcements to remind shoppers to drop in their entries until the cut-off time for the weekly draw arrives. It is so amazing to hear people's surprise and disbelief that they have won when we phone them with the news, and then the store manager has to convince them that we are really not joking. The till slips get drawn from the back of the bakkie (main prize) and the weekly winners then get phoned. Last week one of the winners was actually in-store and she collected her prize on the spot.
The final draw for the main prize (there are 20 bakkies to give away across the country) takes place in just over a week from now. I will be MC'ing and facilitating at one of the Gauteng stores and it is going to be a very exciting event with plenty of entertainment to keep the crowd going until the final draw and announcement. I can't wait to see, and hear the winner's reaction when I announce their name!
"Bennum has a very engaging delivery style and eloquent speaking ability. He adds class and elegance to any function or event." – Nina Pieters (Owner – Events Extra-Ordinary)
"He is a great brand ambassador, always making sure that he is fully clued up with all the relevant and recent information, carrying the brand forward in a positive and knowledgeable manner. I will work with Bennum any day of the week. Great guy and loyal friend." – Ewan Strydom (Owner -Morning Breakfast Show Presenter, SABC3)
"It was great to have Bennum as MC at our wedding. We could relax and enjoy our special day knowing that all the formalities were taken care of and running smoothly. Bennum made sure our guests were taken care of and everything ran on time. He even helped us plan the sequence of events and was a great help in pulling the programme together." – Corlia Kemp
"Bennum has a very engaging delivery style and eloquent speaking ability. He adds class and elegance to any function or event." – Nina Pieters (Owner – Events Extra-Ordinary)
"He is a great brand ambassador, always making sure that he is fully clued up with all the relevant and recent information, carrying the brand forward in a positive and knowledgeable manner. I will work with Bennum any day of the week. Great guy and loyal friend." – Ewan Strydom (Owner -Morning Breakfast Show Presenter, SABC3)
"It was great to have Bennum as MC at our wedding. We could relax and enjoy our special day knowing that all the formalities were taken care of and running smoothly. Bennum made sure our guests were taken care of and everything ran on time. He even helped us plan the sequence of events and was a great help in pulling the programme together." – Corlia Kemp