"Captivate your audience with an MC, host or presenter that expertly combines an engaging and warm personality with subtle charm and wit. Any event, brand or ceremony would be lucky to have Bennum running the show."
– Khanyi Buthelezi (CEO, Embassy Agency)
DeKat Magazine Interview with Bennum
Posted July 7, 2014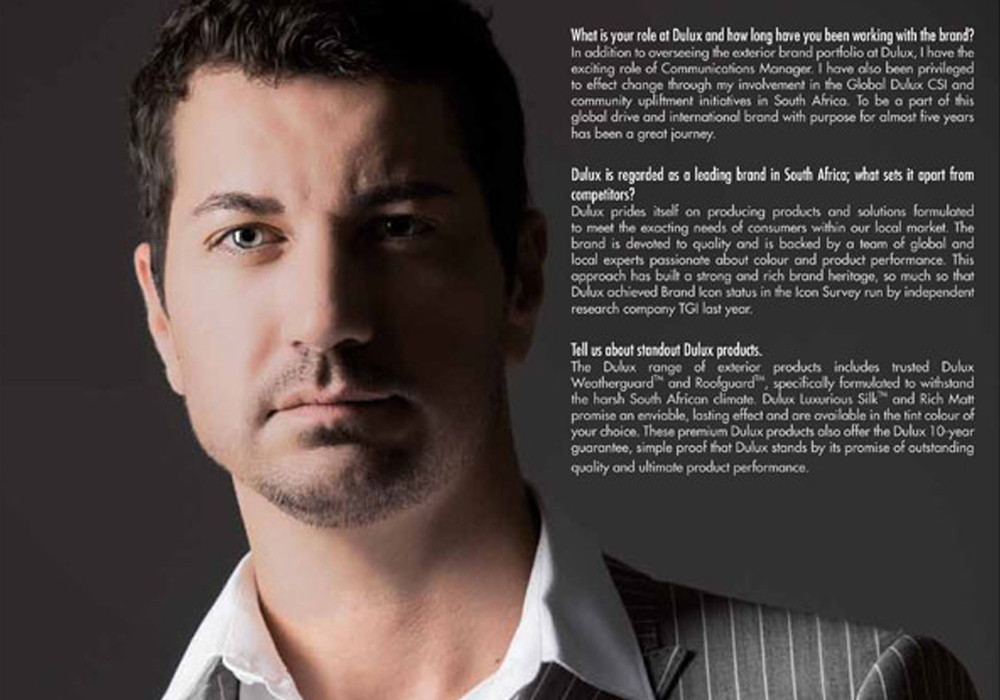 Dulux Communications and Exterior Brand Manager, Bennum van Jaarsveld chats about one of South Africa's most loved brands.
What is your role at Dulux and how long have you been working with the brand?
In addition to overseeing the exterior brand portfolio at Dulux, I have the exciting role of Communications Manager. I have also been privileged to effect change through my involvement in the Global Dulux CSI and community upliftment initiatives in South Africa. To be a part of this global drive and international brand with purpose for almost five years has been a great journey.
(An excerpt of the published interview, as can be viewed below)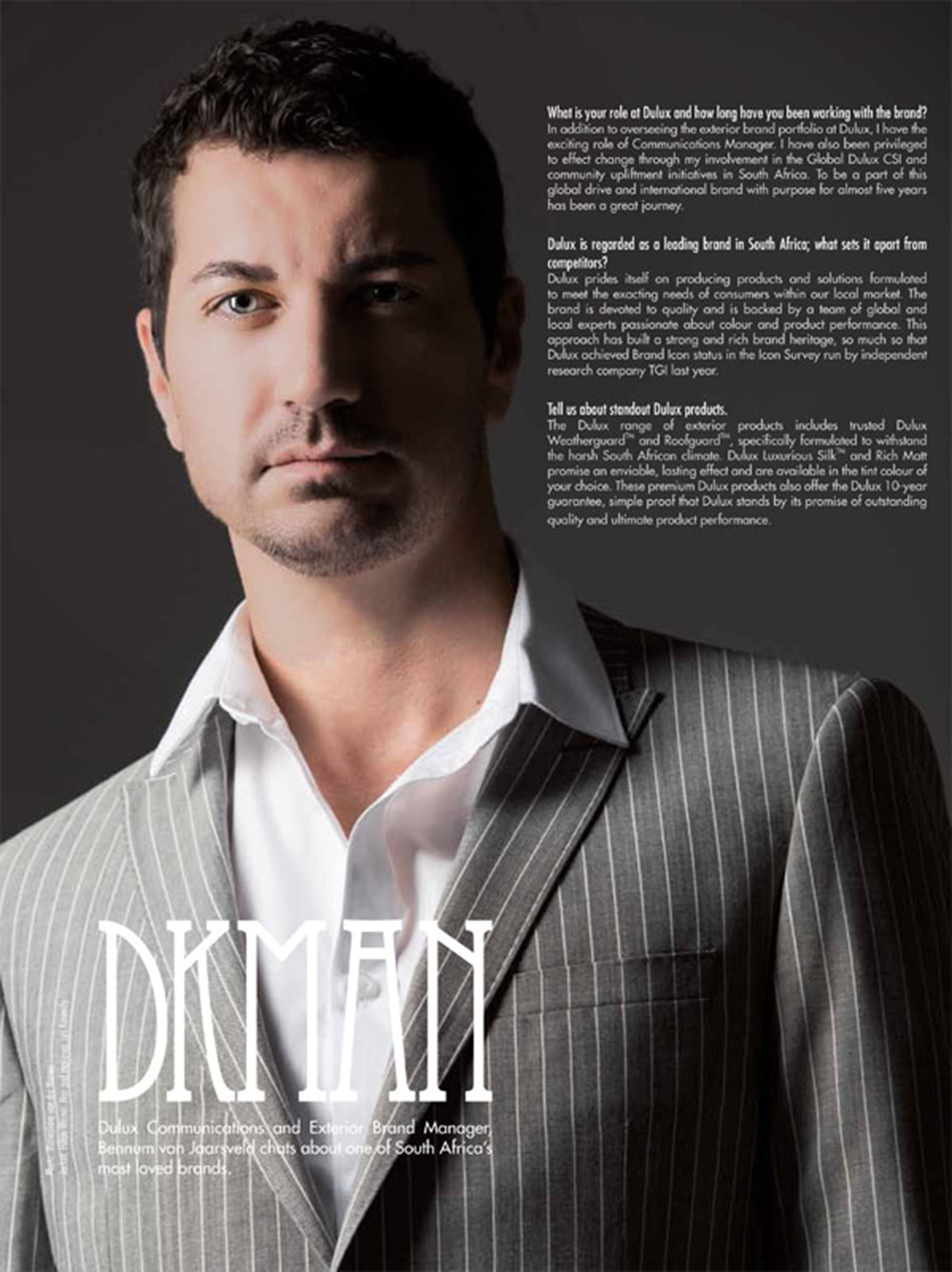 "Bennum has a very engaging delivery style and eloquent speaking ability. He adds class and elegance to any function or event." – Nina Pieters (Owner – Events Extra-Ordinary)
"He is a great brand ambassador, always making sure that he is fully clued up with all the relevant and recent information, carrying the brand forward in a positive and knowledgeable manner. I will work with Bennum any day of the week. Great guy and loyal friend." – Ewan Strydom (Owner -Morning Breakfast Show Presenter, SABC3)
"It was great to have Bennum as MC at our wedding. We could relax and enjoy our special day knowing that all the formalities were taken care of and running smoothly. Bennum made sure our guests were taken care of and everything ran on time. He even helped us plan the sequence of events and was a great help in pulling the programme together." – Corlia Kemp
"Bennum has a very engaging delivery style and eloquent speaking ability. He adds class and elegance to any function or event." – Nina Pieters (Owner – Events Extra-Ordinary)
"He is a great brand ambassador, always making sure that he is fully clued up with all the relevant and recent information, carrying the brand forward in a positive and knowledgeable manner. I will work with Bennum any day of the week. Great guy and loyal friend." – Ewan Strydom (Owner -Morning Breakfast Show Presenter, SABC3)
"It was great to have Bennum as MC at our wedding. We could relax and enjoy our special day knowing that all the formalities were taken care of and running smoothly. Bennum made sure our guests were taken care of and everything ran on time. He even helped us plan the sequence of events and was a great help in pulling the programme together." – Corlia Kemp