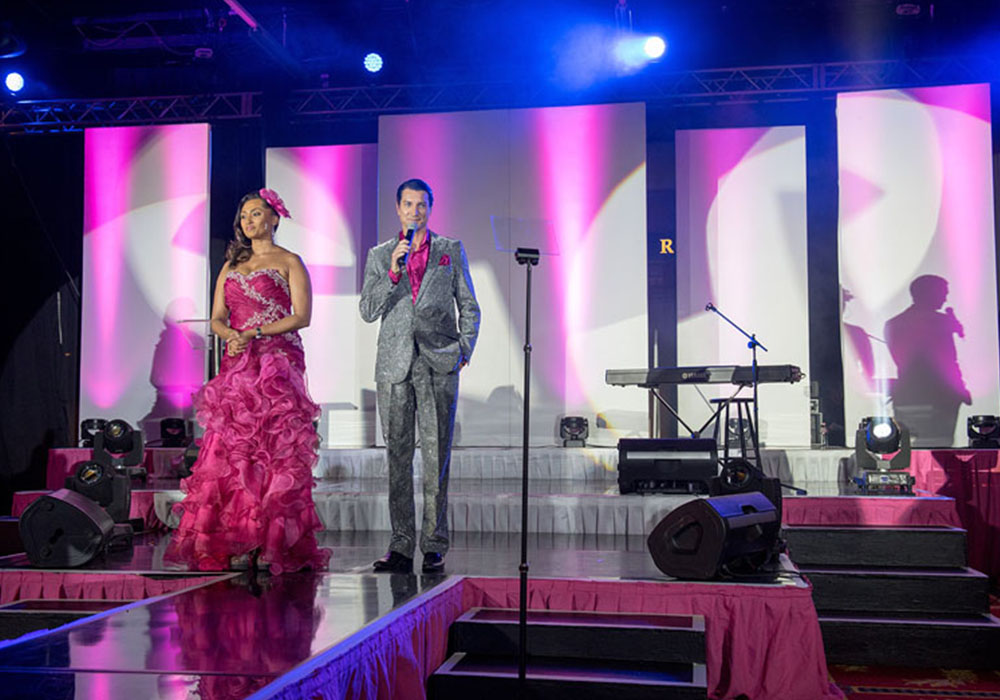 It has certainly been a busy and very exciting couple of months. Apart from shooting a TV commercial for an investment company and recording some voice overs for a few ads, I have also been busy with MC engagements. Here are some of the highlights:
Professional Speakers Association of Southern Africa – I was the MC at one of the recent Gauteng Chapter meetings having to facilitate the evening and keeping an eye on the running order of the proceedings. We had an entertaining night with great food and interesting talks by some of the best names in the speaking industry. Even though I am now an accredited and proud member of PSASA, I am constantly inspired by each speaker's unique topics and experience.
Pink Drive – I was dressed in pink as the Master of Ceremonies for the annual Mardibra Gala Dinner. Held at Emperors Palace on 17 October and speaking to an audience in excess of 950 guests. A prestigious and festive evening to honour cancer survivors, celebrate life and support the efforts and life enhancing work of the Pink Drive team. We also raised more funds with auctions during the night. Thank you to everyone at Pink Drive for involving me. See some pics of my pink wear at the Pink drive Mardibra Gala Dinner and the Mardibra Gala Dinner video highlights of the evening.
Another highlight was MCíng the Redefine Properties Yearend function in November. This elegant afternoon function was held on the glass panelled top floor of one of their new buildings at 90 Rivonia with spectacular views across the entire Sandton and beyond. Does it get better than addressing an audience with a skyline view behind me as the backdrop for the stage? See a few of the pics from the Redefine Properties Yearend function
December is not slowing down and I am looking forward to speaking and MCíng at a few yearend functions and some in-store promo days at various retail outlets!
"Bennum has a very engaging delivery style and eloquent speaking ability. He adds class and elegance to any function or event." – Nina Pieters (Owner – Events Extra-Ordinary)
"He is a great brand ambassador, always making sure that he is fully clued up with all the relevant and recent information, carrying the brand forward in a positive and knowledgeable manner. I will work with Bennum any day of the week. Great guy and loyal friend." – Ewan Strydom (Owner -Morning Breakfast Show Presenter, SABC3)
"It was great to have Bennum as MC at our wedding. We could relax and enjoy our special day knowing that all the formalities were taken care of and running smoothly. Bennum made sure our guests were taken care of and everything ran on time. He even helped us plan the sequence of events and was a great help in pulling the programme together." – Corlia Kemp
"Bennum has a very engaging delivery style and eloquent speaking ability. He adds class and elegance to any function or event." – Nina Pieters (Owner – Events Extra-Ordinary)
"He is a great brand ambassador, always making sure that he is fully clued up with all the relevant and recent information, carrying the brand forward in a positive and knowledgeable manner. I will work with Bennum any day of the week. Great guy and loyal friend." – Ewan Strydom (Owner -Morning Breakfast Show Presenter, SABC3)
"It was great to have Bennum as MC at our wedding. We could relax and enjoy our special day knowing that all the formalities were taken care of and running smoothly. Bennum made sure our guests were taken care of and everything ran on time. He even helped us plan the sequence of events and was a great help in pulling the programme together." – Corlia Kemp